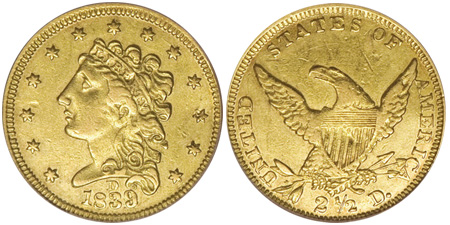 With the second lowest mintage of the series, the 1839-D Quarter Eagle can be a difficult coin to locate. It is generally considered the most difficult coin of the three 1839 branch mint issues. As the first quarter eagle from the Dahlonega Mint, the issue garners increased demand.
The Dahlonega Mint produced a mintage of only 13,674 quarter eagles for this year, and it appears that the majority of these circulated extensively. It is estimated that perhaps 200 examples have survived in all grades with about two dozen mint state pieces.
The highest graded examples are graded MS64 by PCGS or NGC. One of the examples graded NGC MS64 realized $63,250 at auction in April 2006. Well circulated pieces or examples with various problems such as cleaning or damage can sell for less than $2,000.