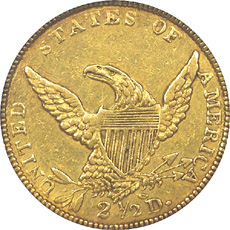 With the introduction of the Classic Head Quarter Eagle, mintages for the denomination would rise dramatically from previous levels. In fact, the number of coins struck for the series in its first year, already exceeded the total number of quarter eagles struck in all previous years.
In 1836 quarter eagle production reached a peak which was unheard of in previous times. An amazing 547,986 pieces were struck at the Philadelphia Mint, which would stand as the highest mintage for the denomination until 1851.
The branch mint issues for the series each carry considerably lower mintages than the Philadelphia issues. The 1838-C Quarter Eagle claims the lowest mintage for the series at just 7,880 pieces.
The mintage figures for each issue of the Classic Head Quarter Eagle series are indicated below.
| Issue | Mintage |
| --- | --- |
| 1834 | 112,234 |
| 1835 | 131,402 |
| 1836 | 547,986 |
| 1837 | 45,080 |
| 1838 | 47,030 |
| 1838-C | 7,880 |
| 1839 | 27,021 |
| 1839-C | 18,140 |
| 1839-D | 13,674 |
| 1839-O | 17,781 |